Make Giving Real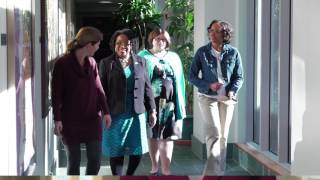 Students and endowed faculty share why donor gifts matter at VCU School of Nursing.
Development staff
Pamela Lowe
Senior Director of Development
Phone: (804) 827-0020
Email: plowe@vcu.edu
Laura Keller
Alumni Engagement Coordinator
Phone: (804) 828-3881
Email: kellerl3@vcu.edu
TaLees Owens
Development Specialist
Phone: (804) 828-5548
Email: owensti@vcu.edu
Katharine Stein
Scholarship and Stewardship Specialist
Phone: (804) 828-2993
Email: steinke2@vcu.edu
Every gift to the VCU School of Nursing sustains the school and the student experience. By making a gift, you are supporting 125 years of leadership in nursing education and research. You can designate your gift to the annual fund or one of six funding priorities:
Annual fund
The annual fund is the cornerstone and very foundation of our fundraising program. Annual fund gifts bridge the gap between operational expenses and income from tuition. By making an annual fund gift, you are supporting financial aid, technological needs to keep classrooms updated, and special projects, among other pressing needs.
Student scholarships
Your gift to scholarship support, especially at the Ph.D. level, provides incentive to bright students with the greatest potential, and allows them to focus on their career rather than debt.
Community engagement As part of an urban university, our faculty, staff and students are deeply committed to addressing the health and wellness of our community. Your gift will support innovative practice models designed by our faculty to improve health care access for Richmond's most vulnerable and underserved populations.
Clinical scholars program
Your gift to the Clinical Scholars Program provides flexible funds to recruit and retain the best and brightest clinical faculty. This addresses the increased nationwide demand for baccalaureate-prepared registered nurses, advance-practice nurses and nursing faculty.
Professorships
Recruiting and retaining qualified nursing faculty is one of the most significant challenges facing the School of Nursing. Advanced-practice nursing degrees that prepare faculty for the classroom are also in high demand. Professorships provide prestige and salary supplements to help us recruit and retain talented faculty.
Nursing research endowment
Supporting our research infrastructure is critical. Having a sound base to support the process of research, from concept to proposal, to implementation and reporting, is key to the success of our future research efforts.
Langston Center for Innovation in Quality and Safety
By making a gift to the Langston Center for Innovation in Quality and Safety, you help the School of Nursing lead the integration, coordination and education of redesigned, intraprofessional teams focused on quality patient outcomes.
How to give
Outright gifts
A gift of cash is a simple way to have an immediate impact. Cash gifts may be pledged over up to five years.
Online
You can make a gift online through VCU's secure giving site. Options include making a one-time gift, making a payment on an existing pledge or setting up a new pledge commitment.
By mail
When making a one-time gift by check, please make it payable to "MCV Foundation for the VCU School of Nursing" and mail it to VCU Development and Alumni Relations Office, Box 843042, Richmond, VA 23284-3042.
If you would like to direct your gift to one of the specific funds listed above, please indicate that on the check's memo line. To make a multi-payment or multi-year gift commitment, please complete and submit the VCU Nursing's gift commitment form.
Payroll deduction
VCU faculty and staff may use payroll deduction to support the VCU School of Nursing.
Gifts of appreciated securities (publicly traded)
You can give through a transfer of stock to the MCV Foundation. If you or your broker has questions or need additional information, please contact Pamela Lowe, senior director of development, at (804) 827-0020 or plowe@vcu.edu.
Planned gifts
If you are interested in including the VCU School of Nursing in your will or naming the school as a beneficiary of a life income gift, or if you have any questions about these or other giving options, please contact Pamela Lowe, senior director of development, at (804) 827-0020 or plowe@vcu.edu.