Want more information?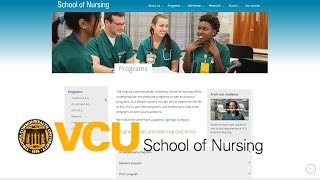 For more information, please fill out this google form and someone will contact you.
The DNP degree is the highest practice degree in nursing. With the increasing complexity of health care and the nationwide demand for more doctorally prepared nurses, our program will increase the number of expert practitioners prepared to translate research into evidence-based practice. Our graduates also will be prepared to lead teams of health care professionals in a wide variety of settings to improve patient outcomes. Our DNP program emphasizes patient safety and quality improvement, leadership, health policy, and organizational systems. With an online format geared toward the working nurse, students will come to VCU three times per year at the beginning of each semester, generally for 2-3 days at a time.
Review our application instructions, program overview, admission and degree requirements.
Additional program and policy information is located in the DNP Student Handbook.
Why choose VCU's Post-Master's DNP program?
Our DNP Program is ranked in the top 50 DNP programs nationwide by U.S. News and World Report.
Our School is a part of an academic health science campus anchored by the VCU Medical Center, a Magnet-recognized hospital that received the prestigious American Hospital Association McKesson Award for Quality and Safety.
You will be taught by doctorally educated faculty who are nationally recognized for their contributions to education and advanced practice.
Partnering with the Langston Center for Quality, Safety and Innovation gives our students cutting-edge skills to enhance quality and safety for their patient populations.
Student enjoy a closely mentored online learning experience.
The DNP program prepares nurses to lead interprofessional health care teams and participate in the health policy efforts.
DNP Program of Study FT - fall admission
DNP Program of Study PT - fall admission
DNP Program of Study - spring admission
What Type of Doctorate is Right for Me?